About us
Alpacas first stirred my curiousity back in the late 1980's when I was still living in Australia. 'I love alpacas' was the phrase used during this television marketing campaign, accompanied by cute images of small children cuddling gentle woollen creatures. It wasn't until years later, in 2005, when by complete accident (or was it?) Jason and I stumbled across an actual alpaca farm in South Carolina, while taking a leisurely drive to explore the surroundings.
Of course like most people who are new to alpacas, we were in no position to purchase these wonderful creatures. Financially it was too far out of reach, and besides, we moved around too much due to Jason's work to be carting around a herd of alpacas. We decided that we needed to be more stable and do a lot more homework before even considering a purchase.
In early 2007 we purchased our first two alpacas, Dominic and Penelope.
The ball rolled on from there and our herd continues to grow. They are all boarded at farms in South Carolina and Ohio, where I've received lots of teaching as well as hands on experience with medicating, new crias arriving, shearing, etc! We are planning to purchase our own land in early 2009 so that we can finally bring our animals home to Alabama.
In the meantime, I have immersed myself into the 'other side' of alpaca ownership, fiber! In early 2008 I learned to spin and purchased my first spinning wheel. This opened a whole new world up for me and I have submerged myself in all different types, qualities and colours of alpaca wool. From the start, blending fibers is what attracted me the most, taking a bit of this and a bit of that to see what enhanced and embellished alpaca wools. I absolutely adore buttery soft yarns and have concentrated on producing these. There is something very earthy and relaxing in the process of cleaning the fleece, carding and blending, and of course hand spinning it into a luxuriously soft yarn. The entire process is done by hand by myself, no machines or mills.
It is truly a dream come true for us. Raising alpacas will allow me to stay home and expand my fiber and yarn store, allow me to homeschool our young son Jesse, and allow Jason to spend more time at home so that we can enjoy more family time, and of course the alpacas will bring in an investment for our retirement.
Alpaca ownership is possible for everyone, and we certainly intend to follow in our mentor farm's footsteps to help new owners reach their goals and be successful. If you are a 'wannabe' alpaca owner, I sincerely hope you will bookmark our site and come back regularly to see how we are growing, and that reading my farm journal will give you the confidence to change your status from 'wannabe' to 'proud'!
Warm regards to your family from ours,
~Roo Kline~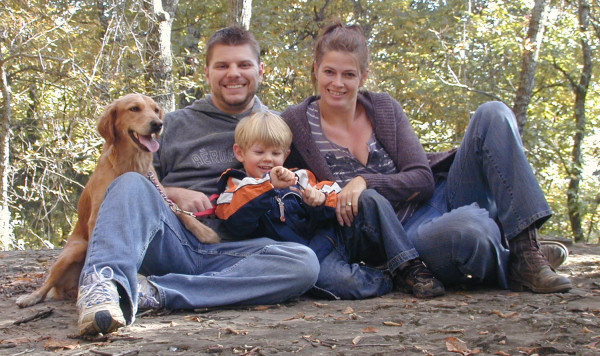 Moona, Jason, Jesse and Roo Kline

Jason is a mechanical and tool designer, and specialising in aerospace and military vehicles
Roo is a graphic designer and has studied massage, aromatherapy and reiki
Jesse will be home schooled and is already being guided using the 'unschooling' method

We support organic and locally grown produce, always seek out natural products, and
have a strong interest in environmental issues to protect our planet for the generations to come